NH Classic Car Insurance: Specialty Coverage's To Protect Your Vehicle with NH Antique Car Insurance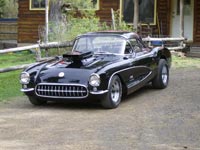 Your NH Classic Car Insurance is an extension of you, there is nothing better than being able to drive it along the roads of NH, tinkering with it in the garage or going to car shows – so make sure you have your Manchester, NH Classic Car Insurance today! At Germain Insurance, we know firsthand how much time and money you have spent on your classic car, However, did you spend the time to make sure you have the proper NH Classic Car Insurance policy? Simply adding your classic car to your existing NH Auto Insurance policy will not entitle you to all the specialty coverage's you may need.
Do I Need A NH Classic Car Insurance Policy?
Typically, Automobile insurance policies treat all vehicles the same. The settlement amount is usually based on actual cash value (ACV). This can seem like it will work for your NH Classic Car Insurance, as you may know that the value of your car is high, but what if the car is stolen or a total loss? The value of your classic car or antique car vary tremendously based on its condition, so you want to be sure that you have the documentation and Antique Car Insurance or Classic Car Insurance coverage in place.
What is the difference between NH Antique Car Insurance & NH Classic Car Insurance?
Antique Car Insurance can vary depending on the insurance company. Some insurance companies require that a car be older than 25 years to qualify for an antique policy, while a classic car must me at least 10 years old. You should speak with your insurance professional at Germain Insurance to know if a NH Classic Car Insurance policy is right for you or do you need a Antique Car Insurance policy.
Why Germain Insurance for my NH Classic Car Insurance?:
Germain Insurance located on the North end of Manchester NH has been writing classic cars and antique cars for over 25 years. Understanding that your NH Classic Car Insurance or NH Antique Car cannot be treated like any of your other cars, we take pride to ensure you are covered with the right Classic Car Insurance policy or Antique car insurance policy.
Just like customizing your ride, we can customize your classic car insurance policy: the car's value, the miles you drive each year, additional parts, aftermarket parts and more can all be added as needed. You might be a driver that goes to all the shows or you may drive only limited miles–pay for what you need.
Insuring your classic car on its own policy, lowers cost and the flexible features that can be added to your classic car's policy will surprise you. NH Classic Car Insurance is available to anyone who needs to insure their car that is worth more than will be covered by a standard NH Auto Insurance policy. Call Germain Insurance (603) 606-1895 or email us at [email protected] and get your NH Classic Car Insurance or NH Antique Car Insurance quote today!